Cash-Tight Libya Oil Firm to Get Part of $2 Billion Package
Posted – 11th February 2021
Libya's cash-strapped National Oil Corp. will receive part of 9 billion dinars ($2 billion) of stopgap funding that the government will provide to state institutions to cover wage bills and medicine, according to people familiar with the matter.
The central bank will transfer the funds under an interim financial arrangement for two months until a unified budget is approved for all of 2021, said the people, who asked not to be identified as they're not authorized to speak to the media.
Libya's oil production has surged since a truce in the nation's civil war in mid-2020 to around 1.2 million barrels a day. But that resurgence is under threat because the NOC lacks the funds to repair damaged and neglected oil fields, storage tanks, pipelines and ports, the state-owned company has said.
Officials at the NOC weren't available to comment. The company had to shut down a major pipeline for about 10 days last month due to a leak.
"The infrastructure in Libya is really in bad shape," Mustafa Sanalla, the NOC's chairman, said in January.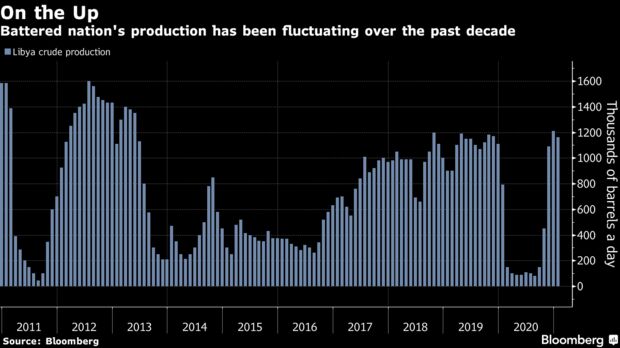 Representatives from Libya, which has been split for years between rival administrations in the east and west, agreed last week on a new executive authority comprised of a prime minister and three-member presidency council to steer the OPEC member until elections slated for December.
The president of neighboring Egypt, Abdel-Fattah El-Sisi, told incoming prime minister Abdul Hamid Mohammed Dbeibah on Wednesday that his country was ready to help Libya restore stability, according to a statement from the presidency.
The dueling administrations received support from competing regional powers during the recent conflict, turning Libya's war into a proxy battle.
The new interim authorities will draw up the full budget for 2021. Libya's central bank recently unified its two official exchange rates, setting the dinar at 4.48 per U.S. dollar. The divergent rates, as well as a black market one, had posed challenges to compiling national budgets.
Unifying the exchange rate and the reactivation of the central bank's board are among the reforms needed to "regularize the management of Libyan oil revenue," the United Nations said in a statement this week.
BLOOMBERG – Mirette Magdy
The Libya Consultancy does not imply any association with, nor endorsement by or of the publisher of this article